Product description:
The ASPRA Aura Smart is a 3-in-1 system:
Automatic air cleaning tailored to the
air quality in space
Separate air quality sensor for particulate matter (PM2.5)
Air quality guardian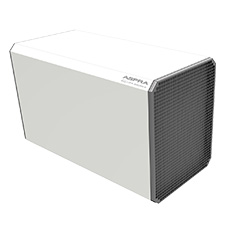 The ASPRA Aura Smart air purifier controls itself based on the air pollution in the room (PM2.5). This way you always enjoy optimal air quality and you breathe clean air. There is an Auto, Turbo, Sleep, Sense (sensor only) and a Custom mode available. An IAQ LED indicates the air quality on the air purifier. The air cleaner will notify you when the filters need to be replaced. Filters are therefore never replaced too soon or too late.
Benefits:
Purifies efficiently and quickly
Automatic purification based on air quality
Flexible
Removes fine particulate matter, viruses and allergens from the air
Built-in air quality sensor
Automatic optimal air purification
Management via web-portal and app
The air quality can be monitored by connecting the ASPRA Aura Smart to the WiFi network. Online you can view the data, view all your air purifiers and sensors and control the air purifier remotely. Suitable for rooms smaller than 200 m³, so the ASPRA Aura is extremely suitable for you office. It would also be suitable for your home. You could place the air purifier in your bedroom or living room.
The ASPRA Aura Smart uses two-phase filtration. The first filtration step takes place inside the air cleaner where the particles adhere to the inside of the air cleaner. This ensures a longer service life for the collectors (particle filters). The inside of the air cleaner can be cleaned with the ASPRA Lite cleaning brush. The second and final filtration step are the collectors and the Activated carbon filter.
ASPRA Aura Smart is suitable for:
Living room
Bedroom
Catering en hospitality sector
Sport centres
Elevators
Cruise ships
Waiting rooms
Capacity in m3/h
400
Power W max
20
Efficiency in %
97
Sound max. dB(A)
36-49
Weight in kg
16
Size in mm
(L x B x H)
675x290x375