Product description:
The ASPRA Ceiling air purifier is installed above a suspended ceiling and purifies the air in a complete room. Not only are coarse particles and particulate matter (PM10, PM2.5, PM1) removed from the air, even ultra-fine dust and nanoparticles are permanently removed from the air.
Because the air purifier is installed above the suspended ceiling, the ASPRA Ceiling does not take up space in the room and reduces the air purifier's sound production through the suspended ceiling.
The ASPRA Ceiling is available in various editions, based upon the number of inlets and outlets. Both the inlet and outlet replace a standard ceiling tile. The outlet, containing the collectors (particulate filters) and optional VFA Active Carbon Filter, distributes the purified air vertically into the room. The particle filters and gas and odour filters can easily be replaced.
Versions:
We offers 3 product versions: the standard version, the Smart version and the Pro version. The overview shows the differences between the 3 versions. In the overview you can find the amount of inlets, but also the amount of outlets. Besides that you can find the capacity of the air purifier.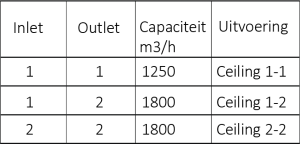 Benefits:
Collectors can be replaced safely and quickly
Installed out of view, does not take up space in the room
Purification equal to HEPA
Sound reduction due to installation above suspended ceiling
Removes fine particulate matter, viruses and allergens from the ai
Manual operation (on/off) (Standard version)
Automatic optimal air purification (Smart version)
Management via web-portal en app (Smart version)
You can see a ceiling tile has been replaced. The air purifier does not take up any space.
Thee ASPRA Ceiling is suitable for:
Offices
Hospitals
Schools
Dentist practices
Clinics
Restaurants
Capacity 2-1 in m3/h
1250
Capacity 2-2 in m3/h
2400
Power in W max
14
Efficiency in %
99
Sound max. dB(A)
0
Weight in kg
30
Ceiling tile size in mm
(L x B)
600×600
Lab-innovations supplies 3 different versions of the ASPRA Ceiling. Here you can find the differences between the different versions.