Product description:
The ASPRA Lite permanently removes viruses, bacteria, harmful dust, fine dust, pollen and fungi from the air in the room. This allows you to breathe in clean and healthy air. Thanks to the standard integrated  Activated Carbon Filter, the air purifier also removes gases and odours from the air.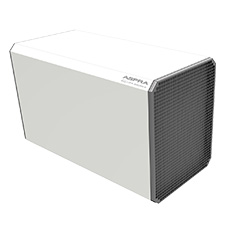 The air purifier offers essential air purification and provides two settings: on and off. When the air purifier is on, it will offer optimal air purification in the highest capacity (400 m³/h). The air purifier is suitable for rooms smaller than 200 m3. This makes the ASPRA Lite extremely suitable for air purification in hospitals, waiting rooms, care homes and isolation rooms. 
The air purifier quickly and effectively removes coarse dust particles, particulate matter (PM10, PM2.5, PM1) and even ultrafine particles and nano-particles from the air.
Benefits ASPRA Lite:
Purifies efficiently and quickly
Flexible
Removes fine particulate matter, viruses and allergens from the air
Low energy consumption
Silent
Manual operation (on/off)
The collectors (particle filters) that are placed in the air purifier remove viruses, bacteria, pollen, fungi, traffic emissions, wood smoke, house mites, allergens and other microbiological pollutants permanently from the air.
The ASPRA Lite uses two-phase filtration. The first filtration step takes place inside the air cleaner where the particles adhere to the inside of the air cleaner. This ensures a longer service life for the collectors (particle filters). The inside of the air cleaner can be cleaned with the ASPRA Lite cleaning brush. The second and final filtration step are the collectors and the Activated carbon filter.
ASPRA Lite is suitable for:
Living room
Bedroom
Catering en hospitality sector
Sport centres
Elevators
Cruise ships
Waiting rooms
Capacity in m³/h
400
Power W max
20
Efficiency in %
97
Sounds max. dB(A)
36-49
Weight in kg
16
Size in mm
(L x B x H)
675x290x375