JPM1250 is an isolator with a floor space of 58×124 cm. = 0,72 m2, provided with 2 filter houses in the roof of the isolator, which can be closed by a valve out of synthetic material.
One filter house, for incoming air, is provided with a Hepa-filter and the other one, for out going air, is provided with a coarse filter and a Hepa-filter.
In the roof of the isolator is one service inlet for electricity as well as two service inlets for water.
The front window is produced from a synthetic material  and needs to be repaired or changed by a new one.
This window is provided with 2 pieces neoprene gloves.
At the bottom of the isolator is a dung-tray with a plastic stop-valve, above the dung-tray is a tip-up grating.
Underneath the isolator there is a plastic dip-tank, to create a water-lock, the inlet to the dip-tank can be closed with a plastic cover.
The JPM1250 will be delivered with a feeding tray, 2 pieces drinking-nipples and its own air vent system still in running condition and possible to change for new. The air vent system needs to be connected to a central airduct system.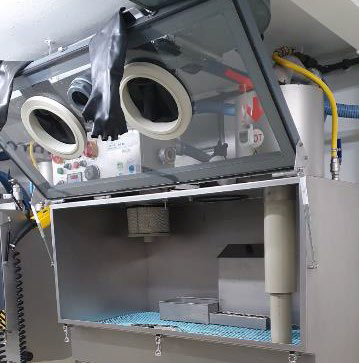 It is made out of 2mm. thickness stainless steel, 304 quality and pickled and passivated. The isolator can be used for positive or negative pressure. These isolators are like brand new and ready to be used directly.