The TVAC 3000 DVC
The two windows in front can be opened. On the picture you can also see the transit sluice. There is a possibility to attach a transport isolator to it. TS Group can also make an special container that you can attach to this sluice.
On top of the isolator are 3 valves. 2 for a water connections.  (Gardena) and 1 for a high pressure hose.
Inside there are also 3 connections. 1 Gardena connection for the waterhose, 1 stainless steel connection
for the drinking nipples and 1 high pressure for a high pressure
hose/gun.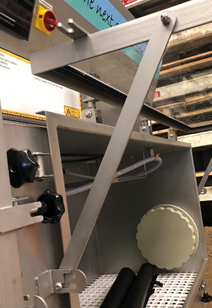 | | |
| --- | --- |
| Floor space: | 2m². |
| Free height: | 75 cm. |
| Feeding space: | 47 cm per feeding trough (4 pieces per isolator). |
| Drinking nipples: | 4 pieces for chickens/ 2 pieces for pigs. |
| Scratch tray for chickens: | 1/3 of total floor space. |
| Perch: | Possible to place 1,5m in isolator. |
| Temperature reach: | Around +12⁰C from room temperature. |
Underneath the isolator there is a manure valve, here you can drain the manure. There is also a diptank to bring in food or other materials.
Inside the isolator (Poultry)
The feeding trough is suitable for pigs without the anti-scratch ring. The anti-scratch ring has to be attached to the feeding trough to make it suitable for chickens. For young birds there is a lower placed ring, the higher placed ring is for older birds. The drinking nipples are with dripping cups. This system is adjustable in height.
The TVAC-3000-DVC isolator is equipped with a SWT-9500i control system that monitors, controls and records the following parameters:
Temperature
Flow
Pressure
Lighting (red and white)
The following parameters are monitored and recorded:
The TVAC-3000-DVC isolator is equipped with a control that allows the following to be set:
Runtime lighting (during a growth curve).
Lightness of the lighting (during a growth curve).
Work lighting.
Flow at m3 / kg / h (during a growth curve).
Temperature (during a growth curve)
Pressure.
When there is a glove leak or break, the ventilator will start running at maximum capacity.
The maximum capacity of the ventilator is 700 m3/h.
Modifications TVAC-3000-DVC Pigs.
To make this isolator suitable for pigs some modifications have to be made.
The floor has to be changed, as well as the floor reinforcement.
We can make a drinking system with 1 drinking nipple that you can easy change.
For pigs you need an protection plate for the gloves and the transit sluice, otherwise the pigs will damage them.
The cover plate inside the isolator has to be modified so that the pigs cannot lift it up.
Option; logging (IsolatorConnect)
Controlling the multipurpose animal climate in your isolator or isolator room.
In combination with Isolator Connect you can add all animal data you want and have worldwide access to your data, controllers and parameters.
The SWT-9500 i is a revolutionary climate computer for many purposes within biotechnology, extremely suitable for isolators and animal enclosures for any type of animal.