TL1500 is an isolator with a floor space of: length 150 cm, depth 110 cm and height 225 cm. Inside dimensions are 145x67x88 cm. The isolators are provided with 2 filter houses in the roof of the isolator.
It will be delivered with 3 different feeding trays, 2 different drinking systems and some other inventory. The isolators need to have a new controller, but it is possible to refurbish the old ones. The isolators need to be connected to a central airduct system for the inlet and also for the outlet.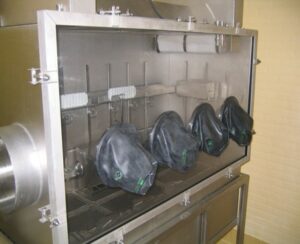 On the roof there are several service inlets as well as an inlet for water, all of these can be closed by a ball valve.
The front window is produced from a synthetic material and cannot be lifted. This window is provided with 4 pieces glove rings that can be used with neoprene gloves.
At the bottom of the isolator is a dung-tray, above the dung-tray there are two types of tip-up grating.
The stainless steel stand is welded on the isolator and is made of stainless steel.
The TL1500 is made out of  2mm stainless steel, 304 quality pickled and passivated and is useable for positive or negative pressure only with central inlet and outlet pipes.
Status of the isolators, used and straight from Lelystad Institute. Isolators will be delivered without warranty. Separately, we also have used controllers for this kind of isolator, if needed we can send you a separate offer.